MIT TR35 Spain
On October 2012, WebLab-Deusto member Pablo Orduña has been honored with the TR35 Spain award. The MIT Technology Review selects the top 10 young innovators in Spain through its spanish edition, seeking fascinating and inspiring works that may change the business and technology landscape in the near future. Pablo Orduña was awarded for his contribution on scaling up the federation of remote laboratories through WebLab-Deusto and the impact this brings to STEM education (see full description in spanish or english). As part of the award, Pablo has participated in the MIT EmTech 2012 conference (EmTech 2012), where TR35 Spain awardees had common activities with global TR35 awardees.
UD-Grupo Santander
On January 2011, the WebLab-Deusto members Javier García-Zubia, Pablo Orduña, Ignacio Angulo, Diego López-de-Ipiña, Jaime Irurzun, Unai Hernández and Jonathan Ruiz de Garibay, were awarded by the UD-Grupo Santander for the work "Arquitectura web 2.0 para laboratorios remotos, WebLab-Deusto 3.0". The project is focused on the development of an infrastructure that enables students to access through the Internet to hardware experiments located in the University, optimizing the cost of the experiments.
Spanish Chapter of the IEEE Education Society
On April 2010, Spanish Chapter of the IEEE Education Society (CESEI) awarded "SecondLab: integration of a microbot in Second Life under a distributed remote lab architecture as Best Degree Final Project 2008/09. The project was developed by WebLab-Deusto member Jaime Irurzun and directed by Dr. Javier García-Zubia. The award was given last April 13th by Martín Llamas, President of the Spanish Chapter of the IEEE EdSoc 2008-2010.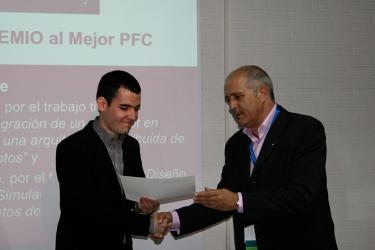 The award comittee decided also to share the Best Degree Final Project award with Miguel Latorre, from the Spanish University for Distance Education (UNED), as well as to give the Best PhD 2008/09 award to David Díez-Cebolledo, from the Universidad Carlos III de Madrid. During the award-giving ceremony, the three projects where presented by their respective authors.